Prepare to embark on a spellbinding journey deep into the heart of the Great White North with Wazdan's latest sensation, the 12 Coins online slot machine. With mesmerizing graphics and captivating coin-themed challenges, this game promises not just thrilling spins but also a touch of Canadian magic. 
Each spin immerses you in a world of wonder, from the shimmering Northern Lights to the echoing calls of the wild. So, lace up your boots and get ready to chase the golden glow of fortune with 12 Coins.
Pros
Unique Gamble Feature.
Great Design.
Possibility for Big Win.
Decent 96.13% RTP.
Cons
Not Too Many Paylines.
Progressive Jackpot is Absent.
Slot Features Table
| | |
| --- | --- |
| Name | 12 Coins |
| Provider | Wazdan |
| Release Date | 2023-05-24 |
| Type | Video Slots |
| RTP | 96.13% |
| Layout | 12 Reels |
| Volatility | High |
| Win Potential | 750x |
| Paylines | – |
| Bet Range | C$0.1 – C$10,000 |
| Genre | Treasure |
| Devices | All Devices |
| Rating | 9.2/10 |
| Special Features | Energy Saving Mode, Unique Gamble Feature, Hold the Jackpot™, Cash Infinity™, Volatility Levels™, Buy Feature, Ultra Fast Mode, Big Screen Mode |
12 Coins Slot Details
The 12 Coins slot by Wazdan offers a captivating 4×3 layout, ensuring the best experience. One of its standout features is the enthralling Cash Infinity™ symbol. When this symbol graces your reels, it becomes sticky, holding its place for more winning possibilities.
The real magic unfolds when the Cash Infinity™ lands on the middle row: this spices up the gameplay and significantly boosts your chances of activating the feature with the max bet. This dynamic mechanism ensures that every spin is filled with anticipation and potential.
Gameplay & Mechanics
You must initially land four bonus symbols aligned within the central row to activate the bonus round. Once this condition is met, prepare yourself for an exciting experience. Upon activating the bonus game, you will get 3 re-spins, and each time you acquire a new bonus symbol, the re-spins will be reset.
During this phase, various symbols can appear. The most fundamental among them are the Cash symbols, which grant you a multiplier of 1x to 5x your wager. Following that, the Cash Infinity™ symbols range from 5x to 10x your bet.
Mini, Minor, and Major symbols bestow upon you their respective Jackpot rewards. In contrast, the Collector symbols accumulate the values from both Cash and Cash Infinity™ symbols and enhance them by a multiplier of 1x to 20x.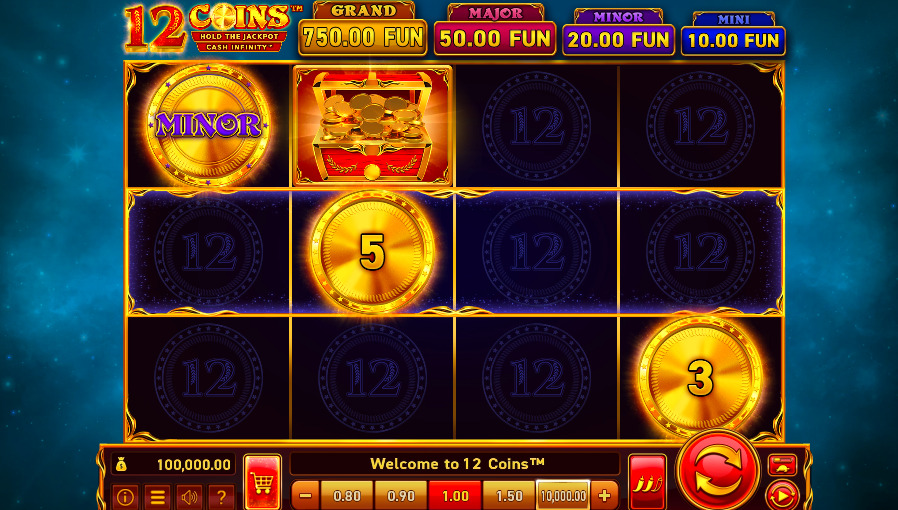 Unique Design & Theme of 12 Coins
12 Coins has an excellent game design. A canopy of a star-filled night sky welcomes Canadian players to a realm of fortune and mystique. The backdrop sets an enchanting tone, with constellations twinkling, offering a feeling of vastness and endless possibilities. This celestial beauty mixes with a rich Asian design influence, evident in the intricate details.
The gleaming gold coins are at the heart of the 12 Coins slot game design. They symbolize prosperity and are a nod to the age-old Asian tradition of using coins as amulets for luck and fortune.
The combination of deep-space wonder and Asian-inspired elegance provides a unique visual journey, making the 12 Coins online slot an aesthetic masterpiece. The game is intriguing to the eyes and rewarding to play.
Special & Exclusive 12 Coins Game Features
12 Coins isn't just a slot game; it's a treasure chest with innovative features that take gameplay to new heights. The game boasts the following features:
Hold the Jackpot.
Bonus Buy.
Energy Saving Mode.
Unique Gamble Feature.
First up, the Hold the Jackpot feature promises players prolonged excitement. When activated, it allows you to cling to potential jackpots, amplifying the thrill of that big win.
Craving instant action? The Bonus Buy feature lets avid Canadians bypass the wait, taking them directly to the heart of the free spins bonus rounds. However, there is no retrigger feature in the game.
Meanwhile, the Unique Gamble Feature in 12 Coins casino slot machine adds an extra layer of strategy and suspense, allowing players to double their winnings by taking calculated risks.
But Wazdan hasn't stopped there. For the environmentally conscious, the energy saving mode and autoplay feature ensures prolonged play on mobile devices by consuming less battery, so the fun doesn't end soon.
Subtle 12 Coins Soundtrack
The soundtrack of 12 Coins is subtle. While monotonous, it beautifully complements the game's theme, creating an immersive auditory experience. The repetitive nature acts as a meditative undertone, drawing Canadian players deeper into the game's mystical world.
Its simplicity harmonizes with the intricate visuals, ensuring the game's essence isn't overshadowed. The consistent rhythm becomes almost hypnotic, aligning perfectly with the Asian-inspired motifs and starry backdrop, making every spin feel like a step into an age-old tale of fortune and wonder.
About Wazdan Software Provider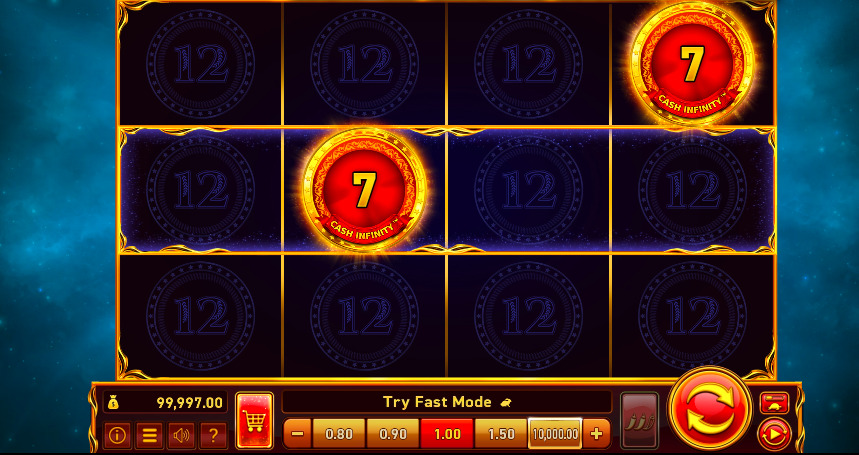 Established in 2010, Wazdan has swiftly risen through the ranks to cement its place as a prominent software provider in the iGaming industry. Famed for its unique approach to game development, Wazdan seamlessly blends cutting-edge technology with creative narratives to produce visually stunning and engaging games.
The company offers a broad range of products, from slot games to table games and even video poker. Wazdan's commitment to innovation sets it apart, as evidenced by its unique features. The adaptability to player preferences and technological trends has earned the brand a devoted following and a reputation for excellence.
Advantages & Disadvantages
Pros
Unique Gamble Feature.
Great Design.
Possibility for Big Win.
Decent 96.13% RTP.
Cons
Not Too Many Paylines.
Progressive Jackpot is Absent.
Our Verdict of 12 Coins Slot
12 Coins video slot from Wazdan stands as a testament to slot gaming excellence, weaving together aesthetics, gameplay, and auditory experiences into one cohesive masterpiece. The game invites Canadian players into a realm of celestial beauty, enhanced by its Asian design inspirations.
With innovative features like Hold the Jackpot and Bonus Buy, it consistently delivers thrilling moments, ensuring both novices and seasoned players remain engaged. While the soundtrack's monotonous nature may not be everyone's cup of tea, it fits harmoniously within the overarching theme, adding depth to the gaming experience.
In a vast sea of slot games, 12 Coins shines brightly, promising potential multiplier wins and a captivating journey through space and ancient traditions. This is a must-try for any slot enthusiast fishing for massive wins!
Our Evaluation Table
| | |
| --- | --- |
| Max Win Potential | Up to 750x. |
| Audio & Visual Design | High-quality visuals but a monotonous soundtrack. |
| Game Mechanics | 4×3 layout with a chance to enter a bonus round. |
| Special Features | Unique Gamble Feature, Hold the Jackpot™, Cash Infinity™, Buy Feature, and Ultra Fast Mode. |
FAQ
How to Win in 12 Coins?
To win in the 12 Coins, you must align specific combinations of symbols on the game's 4×3 layout. Success largely depends on chance, as with most slot games. However, leveraging the game's special and scatter features, like the Cash Infinity™ symbol and the Hold the Jackpot feature, can improve potential outcomes. While there's no guaranteed strategy, understanding the game mechanics enhances the overall experience.
Is 12 Coins Available for Mobile Devices?
Yes, you can play 12 Coins on mobile devices. Wazdan ensures that its games are optimized for various platforms. Canadian players can enjoy 12 Coins seamlessly on smartphones and tablets, regardless of the operating system. The game's design and features remain consistent, offering the same compatibility as desktop versions.
Is the 12 Coins Free Version Available in Canada?
Indeed! The 12 Coins demo game is available for free. This allows players in Canada to familiarize themselves with the game's mechanics and features without risking real money. It's an excellent opportunity for new and experienced users to get a feel for the game, test strategies, or simply enjoy the gameplay and design.
Do 12 Coins Offer Any Bonuses?
Absolutely! 12 Coins does offer bonuses to enhance the gameplay experience. One of its notable features is the Bonus Buy option. This allows Canadian players to directly purchase and activate the game's bonus rounds, bypassing the usual gameplay to reach these potentially rewarding stages. This feature adds an extra layer of excitement.