From the snowy peaks of Canada's Rockies to its sprawling maple forests, slot fans have been clamouring for a game that marries age-old symbols with an enchanting touch. And lo and behold, the Sizzling Eggs slot game by Wazdan has risen, much like the legendary Phoenix it draws inspiration from.
Pros
Three volatility settings to tailor your experience
Chance to win a whooping 250x in a single base game spin
Free Spins come with three Egg Collector symbol modifiers
Four distinct jackpot symbols, maxing out at 200x your bet
Impressive max bet win up to 2,500x your stake
Cons
Might benefit from heftier jackpots
Merging the fascinating lore of the Phoenix with fruit machine motifs, this slot offers a delightful adventure with each spin. The mystique of the Phoenix bird, renowned for its cyclical rebirth, is beautifully juxtaposed against cherries, lemons, and other symbols.

Canadian players, along with global fans, are in for an unparalleled treat. Rich in graphics and with intricate gameplay nuances, it's a transcendent experience, one that resonates from the heart of Canadian lore to gamers worldwide.
Online Slot Features Overview
| | |
| --- | --- |
| Feature | Description |
| Name | Sizzling Eggs |
| Provider | Wazdan |
| Release Date | 08.06.2022 |
| Type | Video Slots |
| RTP | 96.14% |
| Layout | 5-3 |
| Volatility | Very High |
| Win Potential | 2,500x |
| Paylines | 5 |
| Bet Range | C$0.10 – C$10,000.00 |
| Genre | Fruits, Fantasy |
| Devices | All Devices |
| Special features | Additive Symbol, Bonus Game, Buy Feature, Cash Collector, Free Spins, Multiplier, Prize Line, Risk/Gamble (Double) Game, Scatter Symbols, Autoplay |

Think of this table as a doorway, a sneak peek, beckoning you to dive into the brand new world. From the bustling streets of Toronto to the serene shores of Vancouver, the magnetic draw of its unique features transcends regional boundaries.
For Canucks, in particular, the game's bet range shines. Its diverse game features invite every player, regardless of their budget. And speaking of detail, Wazdan's craftsmanship is evident. The game weaves in elements like bonus-studded eggs, making it a thrilling ride, not just for greenhorns but for seasoned slot enthusiasts, too.
Diving Deep Into Sizzling Eggs
There's more to Sizzling Eggs than meets the eye. While one might be tempted to deem it just another slot game, a closer look reveals a treasure trove of features. Now, let's whet your appetite with a detailed view of the slot.
Gameplay & Mechanics
The base game is intuitive but also packed with a few surprises. Wazdan ensures a comprehensive experience by incorporating:
Special Features: From cash-rich symbols to multipliers that can drastically increase your winnings.
Unique Gameplay Elements: The Collector Egg is an innovation unique to this Sizzling Eggs casino slot machine. It accumulates value from cash and jackpot symbols, making every spin suspenseful.
Give it a try and play Sizzling Eggs to encounter symbols like the Collector Multiplier, Cash symbols, and Jackpot symbols. But what really sets this game apart from so many others is its adaptability. Players can adjust the level of volatility on their own. Want a steady experience? Opt for low volatility settings. Feeling adventurous? Go for high volatility and surf the waves!
Game Design & Theme Aspects
What can be more Canadian than appreciating a well-thought-out design? Dive into the dark caves where phoenix eggs sizzle and pop. The design contrasts:
Bright fruit symbols against a shadowy backdrop reminiscent of those dark, cold nights beyond the Arctic Circle.
The Phoenix bird's mythological essence blended with the familiar fruit game keeps players engaged and rooted in the storyline.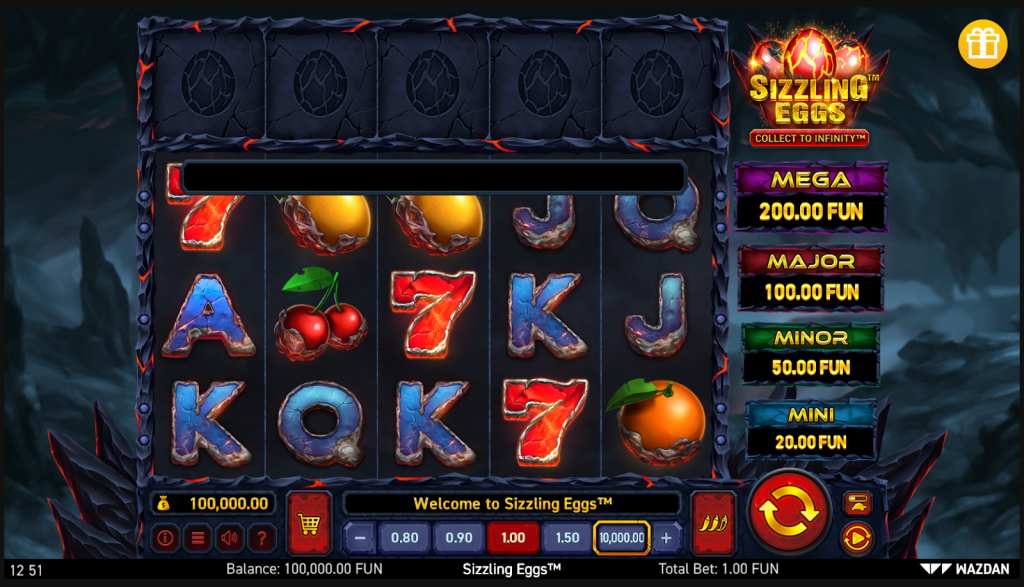 This game isn't just a feast for the eyes – the ears are equally treated!
The carefully crafted sound effects resonate with the theme, punctuating every win with exhilarating sounds. Whether you're playing in Vancouver or Toronto, the universal appeal of its design ensures you're transported to the Phoenix's mystical realm.
Bonus Rounds & Special Features
The core of Sizzling Eggs lies in its thrilling bonus rounds. Wazdan cleverly marries tradition and innovation in these special segments. Be sure to explore them all in the Sizzling Eggs demo game:
Phoenix Rising Feature: Each time a phoenix egg lands on the reels, it holds a multiplier along with other generous surprises. As the egg cracks open, players can't help but be on the edge of their seats.
Unique Gamble Feature: This one's for the adventurous and brave-hearted punters. After a win, players can try to double their earnings by guessing the colour of the next drawn card. A correct guess doubles your winnings, but a wrong one means you lose it all. A touch of gambling to spice things up even more!
Adjustable Volatility: Players can modify the game's volatility, a distinctive feature that's almost Wazdan's signature. Whether you're a casual gamer from Montreal or a high-roller from Ottawa, the game caters to all.
Collect to Infinity: This feature keeps players hooked. With its ability to accumulate values throughout the bonus round, the Collector Egg is the heart of this feature.
Mobile Gaming & Compatibility
Mobile gaming is all the rage, and Canada is ahead of the curve. With many people playing on-the-go, Sizzling Eggs ensures a seamless experience:
Cross-Device Compatibility: Whether you're holding an iPhone or Android device, the game transitions perfectly.
Well-Optimized Performance: Expect no lag. Wazdan ensures a buttery-smooth experience, irrespective of your smartphone's specifications.
Intuitive Design: The mobile interface is player-friendly, ensuring that every gamer worldwide, from rookies to veterans, finds it easy to navigate.
Introducing Wazdan
Even if you've only dabbled in slots, chances are you've stumbled upon a Wazdan creation. Renowned far and wide, with a special presence in Canadian circles, Wazdan isn't merely another name. They're a beacon in the gaming world, with "Sizzling Eggs" being a glowing testament to their prowess.
In 2010, amidst Malta's golden sands and azure fishing waters, Wazdan's journey began. A mission, rather simple yet profound: to create innovative and engaging games. Fast forward to today, and their shelves are filled to the brim with awards and accolades.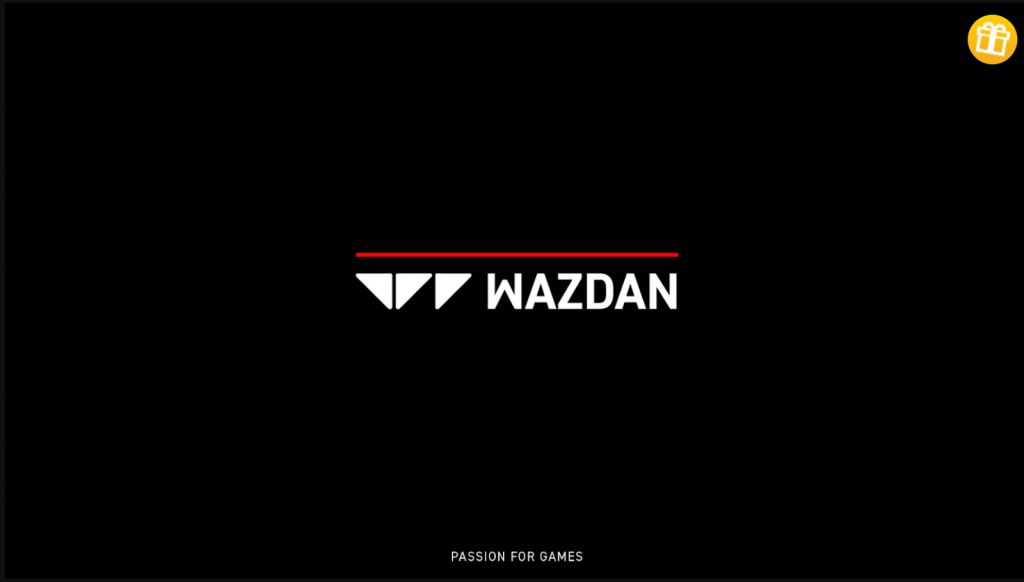 Witnessing their trajectory, it's nothing short of spectacular. They've clinched titles like "Nordics' Top Slot Provider" and bagged honors for inventive features like the Mystery Drop.
What sets them apart? Their games aren't static. They pulse, breathe, and adapt, letting players toy with aspects like volatility. It's this versatility that makes them resonate with newcomers and veterans alike.
And with the Malta Gaming Authority's endorsement, they guarantee fun and fairness.
Our Verdict
If the mystique of the Phoenix intrigues you, if the call of a hefty jackpot tickles your fancy, or if you're just a thrill-seeker hunting for the next great game, Sizzling Eggs online might just be the go-to option for you.
This slot doesn't merely play to the gallery. It's an intriguing dance between the age-old fruit machine charm and the mesmerizing wild tales of the Phoenix. And trust Wazdan to not just stop at the aesthetics. They've woven in features, letting players shape their gaming journey and make every session unique.
Like any other game, there's room to grow, especially when we talk of jackpot potentials. Still, the game's essence and unique offerings make it worth a shot.
For Canadians braving a Calgary frost or navigating Vancouver's drizzles, this might be your gateway to warmth. Dive in, play a hand, and maybe, just maybe, you could unveil a shimmering prize.
Our Evaluation
| | |
| --- | --- |
| Aspect | Rating (Out of 10) |
| Max Win Potential | 8.7 |
| Audio & Visual Design | 9.0 |
| Game Mechanics | 9.2 |
| Special Features | 9.1 |
Even if you don't plan to put your money on the line, the Sizzling Eggs free version is definitely worth a try. It may not redefine the realm of online slots, but it does have its rightful place in Wazdan's portfolio. Its unique features, combined with its high-end visuals and sounds, make it a decent contender for any slots lover, especially those from the Great White North.
FAQs
1. What Is the Sizzling Eggs Slot Game?
Sizzling Eggs is an online video slot game developed by Wazdan, inspired by the mythological Phoenix bird. Set in a dark cave, the game revolves around the Phoenix bird's eggs and blends traditional fruit machine symbols with this unique theme.
2. What Are the Special Features in the Sizzling Eggs Slot?
The game boasts several unique features:
Collector Egg symbols on the top reel accumulate value from cash and jackpot symbols.
Cash symbols come with stake multipliers.
Four types of Jackpot symbols offer different prizes.
The Collector Multiplier symbol boosts the accumulated value.
Collector Countdown adds to the countdown value.
Collect to Infinity™ lets a collector egg gather values throughout the bonus round.
3. How Can Players Customize Their Gameplay in Sizzling Eggs?
Sizzling Eggs allows players to choose their preferred pace and volatility. Wazdan offers three distinct settings for volatility: low, medium, and high. This means players can adjust the game's hit frequency and win size to their liking.
4. What's the Maximum Win Potential in Sizzling Eggs?
Players can win up to 2,500x their stake in Sizzling Eggs. The game offers opportunities to land top-up wins of up to 250x from a single base game spin, with even larger payouts possible in the bonus round.
5. Is Sizzling Eggs Compatible with Mobile Devices?
Yes, Sizzling Eggs is designed to be compatible with all devices. Whether you're playing on a desktop, tablet, or smartphone, you can enjoy the full gaming experience seamlessly.